Studium / Medical school
http://www.anatomie.uni-goettingen.de/de/lehre.html
Anatomie
Innovative Lehre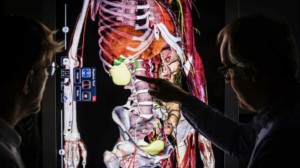 Virtuelle Seziertische ergänzen das Medizinstudium in Göttingen (Kontakt: Profs. Thomas Dresbach und Jochen Staiger).
Bild: Lars Berg. Quelle: https://www.bild.de/ratgeber/wissenschaft/ratgeber/in-der-anatomie-hier-seziert-der-bild-reporter-eine-leiche-77800896.bild.html
Virtuelle Seziertische in der Göttinger Anatomie:
https://www.goettinger-tageblatt.de/Campus/Goettingen/Neue-virtuelle-Seziertische-an-der-Universitaetsmedizin-Goettingen
Our lab
There is ample possibility for participation and training at all levels, including lab visits, individual practical courses, lab rotations, bachelor- , master-, MD-, PhD-thesis work, and PostDoc work.
Training is offered in the following methods:
Molecular cloning, yeast-2-hybrid assay, western blotting, subcellular fractionation, pulldown, immuno precipitation, antibody generation
Primary culture, cell lines, viral infection of neurons, various transfection methods, molecular perturbation methods (knockout, knockdown, overexpression)
Epifluorescence and confocal microscopy, live imaging, electron microscopy, DAB photooxidation electron microscopy
Patch-clamp and field-recording electrophysiology
Feel free to visit us.