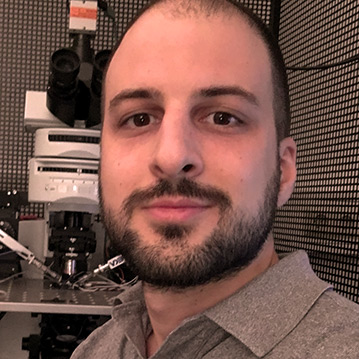 Ermis Pofantis
Post-doctoral researcher
Bio
01/2016 – 4/2019 University of Göttingen / GGNB program Sensory and Motor Neuroscience
10/2011 – 07/2013 University of Patras, Greece, Master, Basic Medical Sciences (Specialization: Neuroscience), thesis: "Effect of the alpha 5 GABAA receptor in long-term plasticity at dorsal and ventral CA1 hippocampal synapses"
09/2004 – 07/2011 University of Patras, Greece, Diplom, Biology, thesis: "In vitro electrophysiological study of the synaptic plasticity diversification between dorsal and ventral rat hippocampus"
Publications
Differences in paired-pulse inhibition and facilitation in the dentate gyrus and CA3 field between dorsal and ventral rat hippocampus.
Pofantis H, Georgopoulos P, Petrides T, Papatheodoropoulos C.
Brain Research, vol 1608, 2015, pp. 21-30. Elsevier BV, doi:10.1016/j.brainres.2015.03.003.
The α5GABAA receptor modulates the induction of long-term potentiation at ventral but not dorsal CA1 hippocampal synapses.
Pofantis H, Papatheodoropoulos C.
Synapse, vol 68, no. 9, 2014, pp. 394-401. Wiley-Blackwell, doi:10.1002/syn.21751.